Enabling people seek and give help locally, instantly & with a single tap
As part of a 2-day Designathon at NetBramha Studios Lab, we attacked a problem that was social & universal. We conceived an uber for instant human help with the intention to spread joy of helping others without vested interests. Connecting help seekers and help providers like never before.
The Thinking
Genesis, Definition & Approach
01

Why we did it?

Just another day in a mall one of us encountered an old man who seemed too disheartned the way people stopped helping each other. It got us thinking. So, we took it on ourselves to get to the bottom of this.

02

What did we observe?

People face a lot of trivial problems in public spaces such as "Finding a place, local langauage translation, localised opinions etc". But, there are no simple ways for them to seek or render help.

03

What do we all need?

Visualise a world where people willingly help one another in their lives. For that, we need a way to connect help seekers & help providers instantly, locally & genuinely.

04

How we validated it?

We applied various qualitative & quantitative research methodologies to gain valuable insights & motivations for the challenge at hand. Two teams spent half a day each on researching and validating the challenge with actual users.

05

What's the result?

With most of us spending umpteen amount of time on our mobile devices, it was only clear to leverage this platform to make it easier to look for localised help.
Presenting Helpmate App
Connecting help seekers and help providers like never before
Use Cases
Real life scenarios
Young girl loses her earring in her apartment playground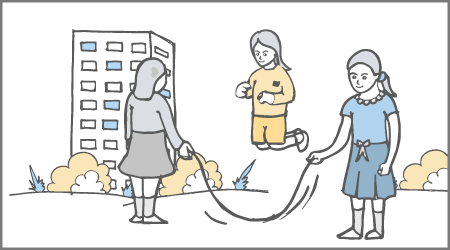 Himani and her friends were enjoying themselves as they were skipping in their apartment's playground.
On her way home, she notices that she has lost one of her gold earrings. She informs her elder sister, Arpita, about the same.
Arpita quickly opens up the Helpmate app and sends out a help request to find the lost earring.
Few residents, walking & exercising in the playground, team up and look out for the earring, and eventually find it.
Woman gets eve teased at a bus-stop
While Priyanka is waiting for her bus home, two men start passing uncomfortable comments.
She, angry & disgusted, pulls up the Helpmate app and sends out a help request for someone to come help her.
Members in her vicinity receive the request. Rahul accepts the request as soon as he receives it.
Through map, integrated in Helpmate app, he reaches the bus-stop and finds her and ushers the two eve teasers away.
An elderly person struggles with boarding the flight
Mr. Pankaj, aged 75, is flying alone to visit his son. He sees the airlines counter & goes to them.
Not being a regular traveller, he's not too familiar with the boarding process.
He send out a help request on Helpmate to seek help from anyone around who could take him through the process & help him board the plane.
Sahil, who was flying with the same flight, acknowledges the request & guides him throughout the journey.
A tourist getting cheated while renting a bike
Vishnu, an adventurous bachelor, is traveling alone & needs to hire a bike for local sight seeing.
He found a place, but is getting overcharged since he cannot negotiate in the local language.
Next, he uses Helpmate to seek help from a localite who can help him hire the bike at a reasonable price.
Raghu responds to the request & assists Vishnu by working out a good deal with the renter in just 5 mins.
Key Concepts
Attention to detail where it matters most